Working with a pro can vary greatly in quality & price. Here's how to make sure you get the results you want — and unbeatable value!
Avoid paying too much for your website design — or being
disappointed

with the results. Read the

exclusive tips

in my unique...
6-Step Guide to Professional Web Development
There are many different aspects to creating a website — and they all have to work together if your site is going to be a success.
So to get the results you want, I'd suggest that you work with people who have all of the skills necessary to give your website what it needs.
This page will help you to balance the aspects of your site that you want take care of yourself, with the details that you hand off to your web designers.
I'll also show you how to find the quality of web development that you're looking for.... what questions to ask, how long it will take, and what kind of prices you should expect to pay.
Step 1: The Basics
Before the actual design of your website even starts, there are a few web development fundamentals to take care of first. You need to have a business model in mind, and at least a basic understanding of your target market, to get yourself moving in the right direction.
So the first thing you'll need when you make the move online is a detailed keyword analysis. A lot of decisions depend on knowing your most effective search engine keyphrases, that I always recommend taking this step before doing anything else.
Effective keyphrases are search terms that people often enter into search engines, and that don't have a lot of other websites competing on those topics. If you type your primary business idea into Google and get 967 million search results, then you probably need to narrow down the niche that you are targeting a little.
You can do your own keyword analysis with some brainstorming of potential keyphrases, and by getting a short subscription to Wordtracker
. It's fairly easy, even for a beginner, to generate a basic list of good keywords.
A web development company with experience in search engine optimization can give you a more detailed analysis — both overall, and specifically for each of the major search engines.
Make sure they can tell you which keyphrases are most likely to bring in genuine customers — keyphrases that will be the most profitable for your online business.
My team has had a lot of experience with keyphrase analysis, so if you need any help focusing your online business model, please let me know.
Next, once you have a distilled list of keywords, you can register a domain name that includes some of the best ones.
Then you need a web host, and you're ready for Step 2 of the web development process:
Step 2: Copy Writing
Copy writing is often the most time-consuming aspect of web development, so it's important to get it started early on.
Each page should cover a few key points, and explain the benefits they provide. If you work with an Internet copy writer, they can expand on these points to capture your customer's interest, generate excitement and evoke an emotional response.
This is the one aspect of web development that is most critical for success, so investing in top quality text will likely provide a higher return than any other element of your web development.
Really good Internet copy-writers can be hard to find, and they aren't cheap when you do find them — the best ones charge six figures per page, plus a percentage of sales. If you're looking for somebody, feel free to get in touch with me and I'll see if one of my team can help you out for a reasonable price.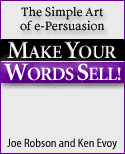 If you want to do it yourself, I would highly recommend buying a copy of Make Your Words Sell!
— it's the best value I know of for learning how to write for the net. I have a lot of copywriting books, but I keep re-reading this one and learning more every time.
Remember also that each of your web-pages should be optimized for a specific search engine keyphrase, which means embedding that phrase within the page text. Knowing what density and prominence to give your keywords will take some experience to get the best rankings.
Search engine results are a critical part of good web design, so having some optimizing software like IBP
or WebPosition
is definitely important if you're doing your own writing. These packages will analyze your text and help get your site into the top rankings — both have free trials, which are worth using even if you don't buy the full version.
Steps 3 and 4 of your web development can be started in parallel with the copy writing:
Step 3: Graphics & Layout
There are many possibilities for the presentation of your site — from very plain to highly refined.
As I've mentioned elsewhere, the 'less is more' philosophy works very well for web graphics. But that doesn't mean your site can't be beautiful!
Depending on your budget, you may choose to use either 'off the shelf' graphical elements, or custom designs — or a mix of the two.
If you go for custom artwork, it can range from inexpensive basic design, to high-end illustration, animation, 3D rendering and photo editing.
The best way to judge the quality of a graphic design firm is to have a look through their web design portfolio. You can then ask them what kind of pricing they would give you for some of the designs that you like.
There is a saying in web design circles that the best designers have the most out-of-date portfolios. They're too busy with other people's sites to update their own.....I'm usually guilty of that myself! So word-of-mouth can be another important tool for finding a good design firm.
The graphic design process will probably take around a week, or possibly two depending on its complexity. Your site layout is completed by putting everything together in HTML and CSS — the language of the web — which leads us to Step 4 of your web development:
Step 4: Programming
This is how your site gets functional. From basic navigation and form processing, to database options and ecommerce shopping carts, it all takes programming to make it work.
There are no limits to the number of features you can add to your site — and many of them can use inexpensive or free scripts that just need to be installed on your host server.
In programming, the same job can usually be accomplished in many different ways. Make sure that the web developer you choose can give you options that are expandable to suit all of your future needs.
It's important to implement a testing procedure for any new features before they go live — and it's very important to know that your programmers have all the latest information on web security. Unfortunately, there are plenty of hackers who enjoy breaking into websites and messing them up. If you accept credit cards, that can be serious.
Once your site has been fully tested on your web host, the next step is to promote it to attract traffic:
Step 5: Site Promotion
Professional site promoters and search engine specialists can charge a wide range of fees, so it's important for you to have a clear goal of the amount of traffic you want.
Generally speaking, the more you spend on site promotion, the more traffic you will generate — but it's important to track the results of each promotional campaign to make sure that it's cost-effective.
Site promotion can and should be an ongoing process, which means that you can start off with the basics, and build your traffic as your business expands.
If you haven't already read through my traffic page, have a look at the techniques my team uses to make our sites a hit. I'm not giving away all my secrets, but it should give you a good idea of what's involved.
The last step in web development is the one that never ends:
Step 6: Monitor & Improve
One of the most powerful features of online business is that every aspect of your website can be tracked and analyzed.
From the numbers of first-time and repeat visitors, to their top paths through your site, to the percentage who make a purchase, to your sources of referrals...
...a website can be a goldmine of data!
Using this information, your online business can correct its weaknesses, and build on its successes. And you can monitor the effect that each change makes to your sales conversion ratio.
It's vital to set up some statistical analysis of your site logs, so you can see the results and keep making your site better. This can help your business to get the highest possible sales ratios from the traffic you attract — there's almost always room for improvement!
Make sure the designers you're working with offer everything, from basic maintenance to....
pay-per-click ad management...
subscriber list maintenance...
statistical analysis...
website promotion...
search engine optimization...
and technical support.
Even if you aren't going to use all of these services right away, it's good to know that they're available if you need them later.
So those are the 6 steps to online success — now here's how to make it all happen:
Putting it all together
Whew! If you aren't overwhelmed by all that, then I'm impressed!
Sorry to load you up with so much information, but I find that it's important for you to know everything that's involved before you get started, so that you understand the process – and the pricing – for building a truly effective website.
If you were to learn how to do each of these steps yourself, I guarantee that it would take you at least three months, full time, to get your website off the ground. Most people I know who have done everything themselves have found that it took them two or three years before their sites became profitable. I'm not exaggerating!
If you find that a custom-made website is beyond your budget, don't worry — there are still other options available for you. Some designers, including my own company, have web design packages that can give you an inexpensive alternative to custom design.

Or you can check out the all-in-one design & hosting solution offered by Site Build It
. (I have a review of SBI here.)
On the other hand, if you want a unique presence on the web, and/or if you want to implement a customized online business model, then you'll probably need the services of a professional web design team.
One option is to put a team together yourself, by finding specialized freelancers on Elance
and RentACoder
. Or you can find a design firm to take care of everything for you — either locally through word-of-mouth, or by searching for everything you want via the web.
Hiring Arvana Design Studios
My team is in the lucky position of being able to pick and choose what clients we work with — we've been around long enough to only take on projects that we know we'll really enjoy. So if you fit our ideal client profile, we'd be very happy to work with you personally.
If your website project involves....
a topic related to holistic healthcare, expansion of human consciousness, organic food & agriculture, or the arts....

an interesting or unique business model for online success....

and a budget of $2500 or more....
....then I'd definitely like to hear from you, to see if we would be a good fit to work with you on your Internet business.
It has given me a lot of pleasure to watch my clients get started and grow on the net — and I'd love to help you achieve the same success.
So please tell me what you need, and I'd be glad to help. You can either contact me directly....
....or fill out my no-obligation quotation request form to get the ball rolling.

Click here to tell me about your project.... I'll give you a free quote, and help you on your way to Internet business success!